Features of Voyageur Canoes
All Voyageur canoes are crafted with care and precision. We are particularly proud of the following special features, some of which can only be found on Voyageur canoes.
Seats and Attachment Brackets
We use a unique interlocking assembly method that makes our wide-webbed nylon seats (woven over white ash frames) firm and comfortable.
The front seat is wider than those found in other canoes, so the bow paddler can sit closer to the gunwale for easier paddling and comfort.
In most models the seats are attached to specially molded Kevlar-glass seat brackets which are bonded to the sides of the hull. This stops them from shifting and also adds structural integrity to the hull.
Cane, hand-woven or pressed, and rawhide seats are also available as optional extras.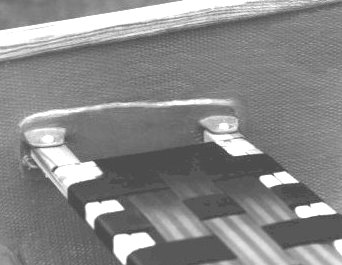 Gunwales
All of our deluxe canoes are finished with wood trim which has been treated with clear, high-gloss varnish.
This coating preserves the wood's natural beauty, is durable and withstands abrasion but, as with all finishes, it is adversely affected by wear and should be touched up periodically if the canoe is stored outside.
The fibreglass canoes under 17' are trimmed with one piece gunwales in solid oak. In the longer models two-piece gunwales are used which incorporate drain slots on the inwales.
The FAKX and Kevlar-epoxy canoes are outfitted with two-piece gunwales. We select clear straight-grained, lightweight woods. The inwales are made from Sitka Spruce and the outwales are White Ash.
Our Wood-canvas canoes are gunwaled in ash and oak.
Our standard line of canoes over 20 ft long have integrated zero-maintenance, fibreglass gunwales. Click here to see samples on the North Country canoes
Top of page.
THWARTS
White ash and Cherry are used for the thwart.
Normally, one thwart is installed at the centre balance point on two-man canoes, but extra thwarts can be ordered and their placement specified.
(Also see our removable thwart/yoke bracket under optional extras and accessories)
Top of page.
DECKS
Attractive cherry decks, bow and stern, are smoothly rounded and contoured on the underside to make lifting more comfortable.
It's a small but much appreciated feature rarely found in other canoes.
BUFFER EYE
Buffer eyes, for attaching lines to the bow and stern, are securely bolted to the decks.
These specially designed cast aluminum pieces are attached with stainless steel fasteners and also protect the ends of the canoe when it is turned over.
FLOATATION
Voyageur's synthetic canoes have closed-cell, preformed, foam-filled floatation tanks bow and stern.
A small opening is provided under the deck in the cover to allow for natural expansion and contraction caused by seasonal temperature changes.
This also allow for air circulation and drainage when the canoe is stored upside down.
FASTENERS
Stainless steel and nylon fasteners are used to attach gunwales, decks and seats on all models except the Standard Construction.
These canoes the gunwales are attached using aluminium rivets.
Top of page.
---
ACCESSORIES AND OPTIONAL EXTRAS

EXTRA THWARTS
All Voyageur canoes up to 19' long (except the 12' Trapper) come with one centre- balanced thwart.
Some canoeists like to have an extra thwart, either behind or in front of the centre position.
Please specify length or location and method of attachment--permanent or removable.
REMOVABLE THWART/YOKE BRACKET
Removable thwart/yoke brackets are securely fastened to the canoe hull with stainless steel fasteners and the thwart or yoke is attached with a quick-release brass pin and shock cord.
These aluminum brackets can be fitted to most canoes with minor modifications and allow the thwart or yoke to be removed in seconds.
CARRYING YOKES
Hardwood Yokes --

Our hardwood yokes offer an economical alternative to the thwart.
The extra surface area of the yoke makes it safer and easier to use as the weight of the canoe is distributed over a wider area
.
Padded Yokes --

These padded yokes are designed for comfort and flexibility.
The two cushioned neoprene pads are supported on a curved hardwood thwart and can be easily adjusted for other paddlers comfort or removed when not in use.
.
Hand-carved Yokes --

These yokes are hand-carved from lightweight, straight-grained Sitka Spruce from British Columbia.
They are the lightest, most practical yokes available and they provide the ultimate in carrying comfort.
These yokes are individually made and can be custom shaped to fit your shoulders.
Top of page.